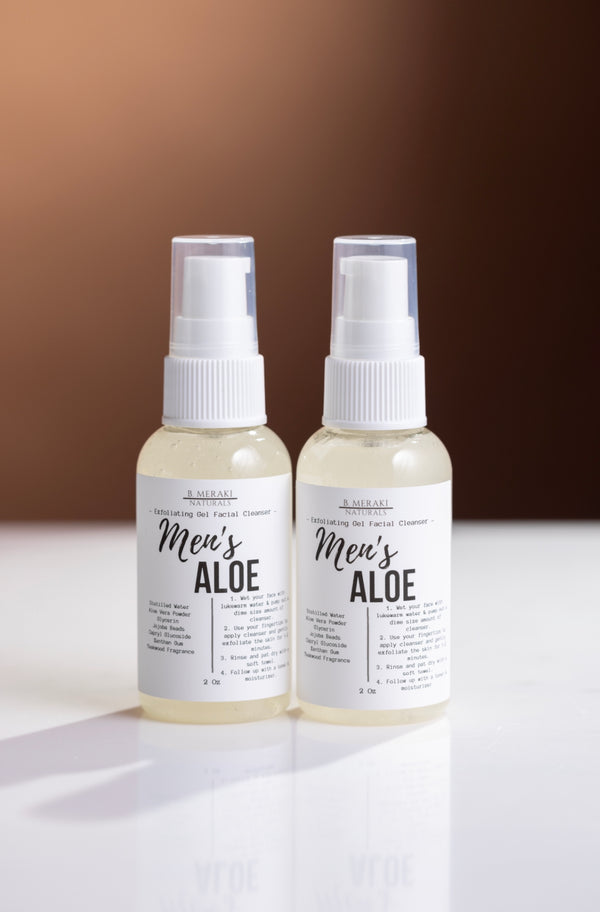 Meraki Naturals -Men's Aloe Facial Cleanser
Aloe Vera Infused.

Gentle exfoliating facial cleanser.

Infused with Jojoba Beads, that will unclog pores and draw out dead skin cells and impurities.

Directions:

Wet your face with lukewarm water and pump out a dime size amount of cleanser.
Use your fingertips to apply cleanser in circular motion and gently exfoliate the skin for 1-2 minutes.
Rinse with lukewarm water and pat dry with a soft towel.
Follow up with a toner and oil or moisturizer.
Ingredients : Distilled Water, Glycerin, Aloe Vera Powder, Aloe Vera Juice, Jojoba Beads, Xanthan Gum, Capryl Glucoside, Euxyl PE 9010 (Preservative), Teakwood Essential Oil, Sweet Tobacco Fragrance.